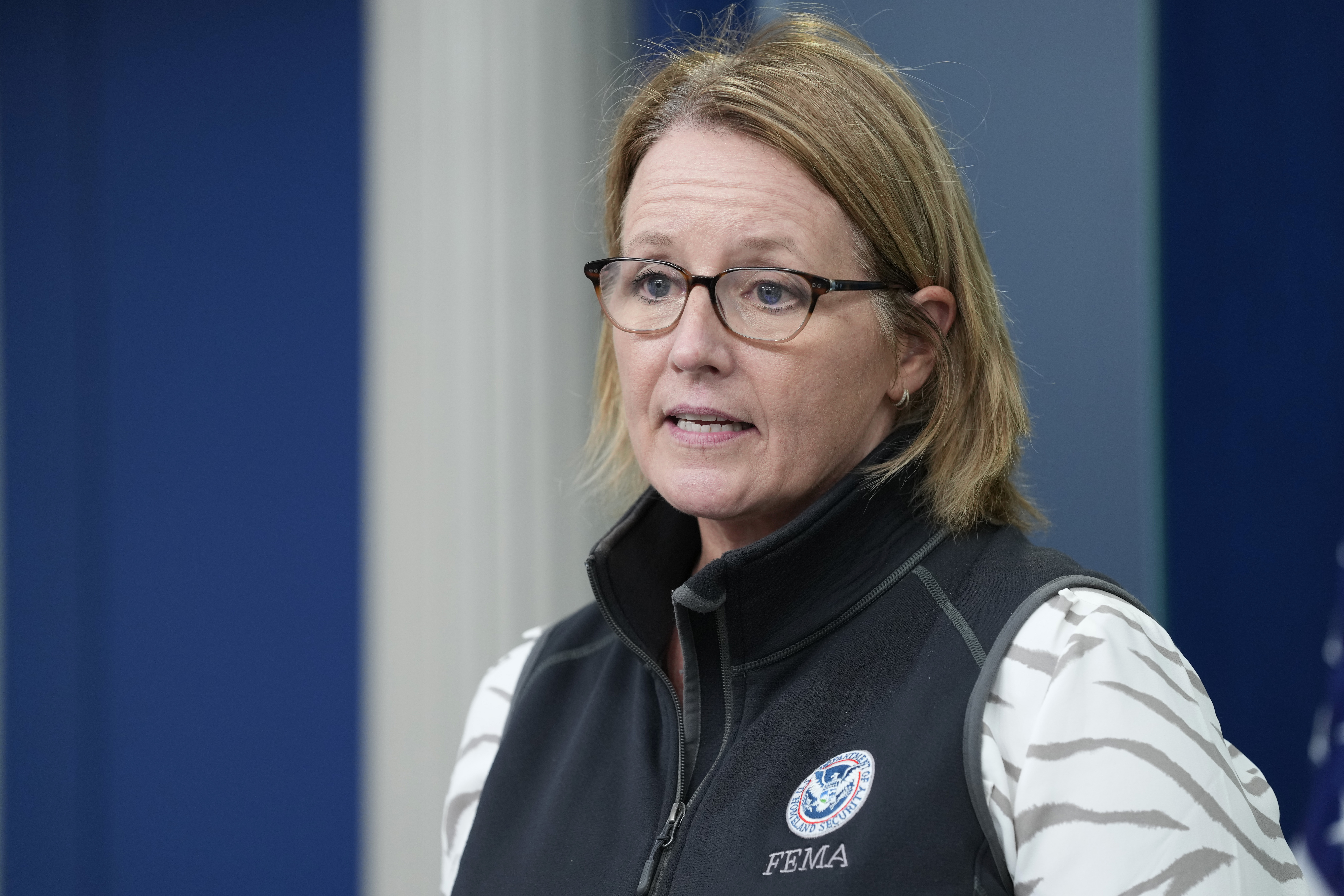 The Biden administration has stopped helping states rebuild from past disasters with money from the federal government's main emergency fund, which is nearing depletion from dozens of storms and wildfires this year.
The restrictions will put pressure on Congress to approve President Joe Biden's Aug. 10 request for $12 billion in emergency money to replenish the disaster fund.
Speaking to reporters at the White House on Wednesday afternoon, Biden stopped short of vowing that the federal government would provide sufficient disaster aid during the current hurricane season.
"If I can't do that, I'm going to point out why," Biden said, without explicitly saying he would blame lawmakers for stalling or rejecting his $12 billion request. "How can we not respond? My God."
Biden added, "I'm confident — even though there's a lot of talk from some of our friends up on [Capitol] Hill about the costs — we're gonna do it."
Under new spending restrictions, the federal disaster fund can be spent only to address life-threatening emergencies such as Hurricane Idalia, which swept into the northern Florida Gulf Coast early Wednesday. Federal Emergency Management Agency Administrator Deanne Criswell said at the White House on Tuesday that FEMA is using its remaining disaster funds only "for critical response efforts to Idalia, the Maui fires and any other extreme weather events."
FEMA said in an internal memo obtained by POLITICO's E&E News that its disaster fund is "approaching exhaustion" and that restrictions are needed due to "the current disaster environment with a major fire and multiple hurricanes."
The agency imposed the spending restriction Tuesday with little notice.
FEMA said in its advisory that it "had intended to provide 10 full days notice" but had to act immediately to address two simultaneous major disasters — the Maui wildfires and Hurricane Idalia — and other potential hurricanes.
The restriction, known as "immediate needs funding," limits FEMA to spending disaster funds on life-saving measures such as clearing debris from roads, maintaining services such as health care and water, and providing emergency housing for displaced individuals.
The restriction could temporarily halt thousands of projects by states to rebuild facilities and infrastructure that were damaged by disasters in the past decade or longer ago.
FEMA pays a large share of those projects' costs — usually 75 percent. Without federal funds, states will have to delay projects or spend their own money and await reimbursement.
The spending restrictions have been anticipated since April when Criswell warned publicly that the agency's Disaster Relief Fund would be drained by this summer.
FEMA has imposed similar restrictions eight times since 2001, most recently in 2017 after Hurricane Harvey caused tens of billions of dollars of damage in southeast Texas.
Congress has been in recess since early August and unable to act on Biden's request to replenish the disaster fund. The Senate returns to Washington on Sept. 5, and the House returns Sept. 12.
Sen. Rick Scott (R-Fla.) said Tuesday that he will introduce legislation to approve the $12 billion "the moment the Senate reconvenes" and that he will demand "an immediate vote."
"I will not allow Washington to continue playing games with disaster aid and the lives of those needing our help," Scott said in a statement.
Lawmakers already face a teeming agenda when they return, including the need to reach a deal to keep the government operating past Sept. 30 despite deep partisan disagreements about spending.
A coalition of major government associationswrote a letter Tuesday to congressional leaders urging them "to act swiftly" in approving emergency funds and warning that without additional money, "recovery projects will grind to a halt."
The signatories include the National Conference of State Legislatures, the National Association of Counties and the National League of Cities.
The $12 billion is part of a $40 billionemergency-funding request by Biden that includes $24 billion to help Ukraine in its war with Russia. Some lawmakers oppose the Ukraine request and want to consider it separately from the other emergency funds.
Reporters asked Biden on Aug. 25 in California if there is a possibility he would agree to divide his spending request.
"None," Biden replied.
Criswell said the disaster fund's current balance is $3.4 billion — a significant sum that is equal to the amount of money Congress gave the fund for the entire 2011 fiscal year.
But 65 federal disasters or emergencies have been declared since April 1, including nine in the past week alone, as extreme heat has fueled major wildfires in states including Louisiana, Washington, Rhode Island and Hawaii.
The 65 disasters and emergencies in the past five months is more than occurred in any full year from 1953 to 1995, an E&E News analysis of FEMA records shows.
FEMA is reviewing an additional 11 requests from governors seeking disaster funds.
"This is our new normal," Criswell, the FEMA administrator, said at the White House.
"We don't have a typical operational season like we've had in the past," Criswell added. "We started with atmospheric rivers in California in January, extreme tornadoes in the spring to the wildfires, and now we are in peak hurricane season. And we have had an unprecedented number of disaster requests from governors."
The FEMA spending restrictions are temporary and will be lifted as soon as Congress refills the disaster fund, though it is unclear when that will occur.
Congress has approved previous requests for emergency disaster funds with little opposition. But the accompanying request for Ukraine aid could complicate and delay approval.
Without emergency cash, the disaster fund is expected to receive $20 billion as its annual appropriation on Oct. 1 when fiscal 2024 begins.
Congressional leaders are mulling a continuing resolution to keep the government funded while lawmakers work on longer term plans. Disaster money could be part of a CR, but House conservatives have balked at such a stopgap without deeper cuts and policy concessions.