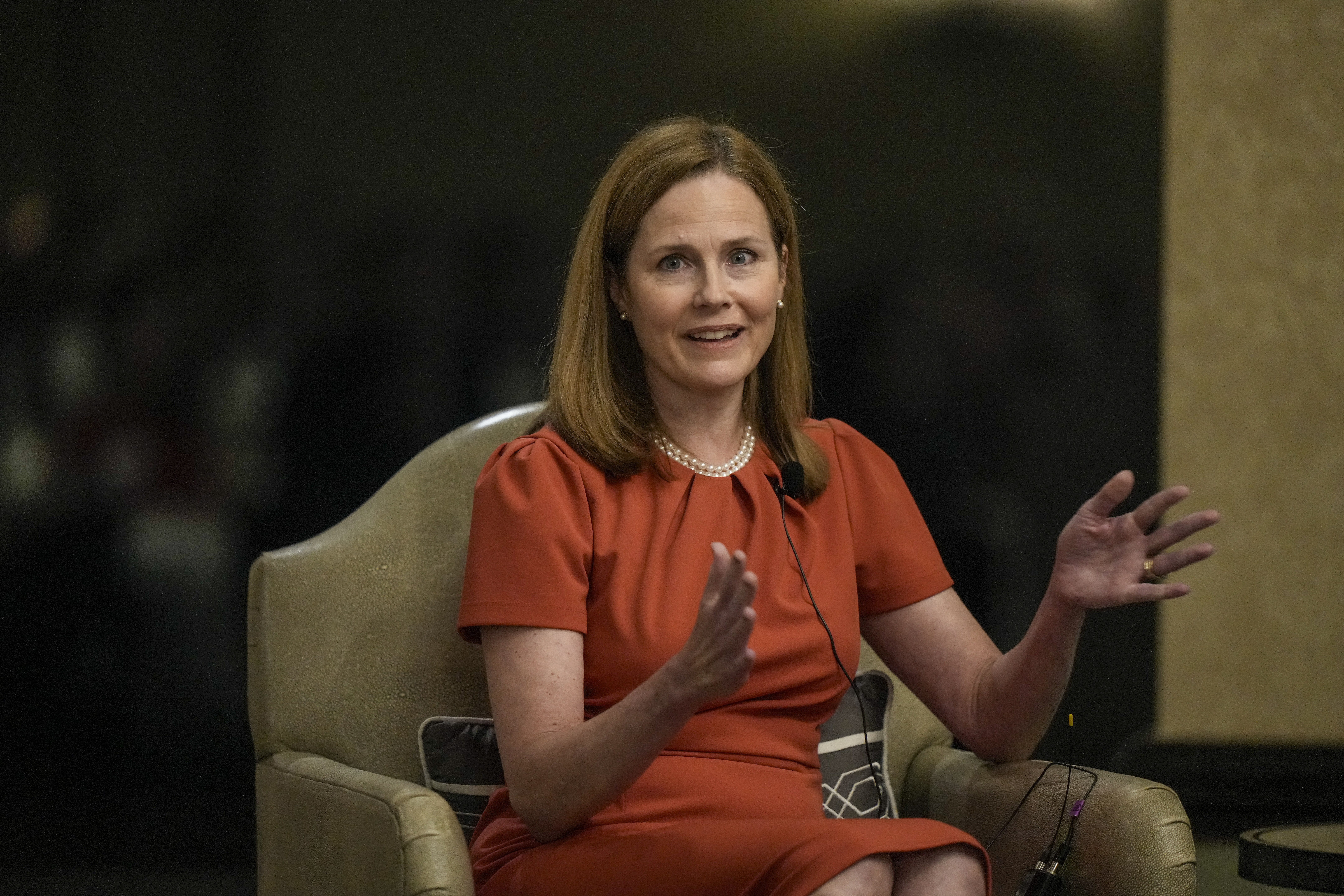 LAKE GENEVA, Wis. — U.S. Supreme Court Justice Amy Coney Barrett told attendees at a judicial conference in Wisconsin on Monday that she welcomed public scrutiny of the court. But she stopped short of commenting on whether she thinks the court should change how it operates in the face of recent criticism.
Barrett did not offer any opinion, or speak directly about, recent calls for the justices to institute an official code of conduct.
Barrett took questions from Diane Sykes, chief judge of the 7th U.S. Circuit Court, at a conference attended by judges, attorneys and court personnel. The event came at a time when public trust in the court is at a 50-year low following a series of polarizing rulings, including the overturning of Roe v. Wade and federal abortion protections last year.
Barrett did not mention the ethics issues that have dogged some justices — including conservatives Clarence Thomas and Samuel Alito and the liberal Sonia Sotomayor.
"Public scrutiny is welcome," Barrett said. "Increasing and enhancing civics education is welcome."
Barrett, 51, said the immediacy and amount of information that is available has fed the increased scrutiny of the Supreme Court.
"You're not waiting once a day to read your print newspaper," she said. "You're seeing things come across your phone all the time, and you're seeing pictures of people."
Barrett recalled that before the birth of the internet when she was a law clerk, people routinely visited the Supreme Court and asked justices on the court to take their pictures or for directions because they did not know who they were.
"People just didn't recognize who the justices were," Barrett said. "I think that's better. I don't think justices should be recognizable in that sense."
But she said that critique of the court is nothing new.
"Justices and all judges are public figures and public criticism comes with the job," Barrett said. "I'm still kind of new at this."
Barrett was a circuit court judge in the 7th Circuit from 2017 to 2020 until she was appointed to the Supreme Court. She graduated from Notre Dame Law School, in northern Indiana, and taught law there from 2002 until her appointment to replace Ruth Bader Ginsburg on the Supreme Court.
"I've been at it for a couple of years now," Barrett said. "I've acquired a thick skin, and I think that's what other figures have to do. I think that's what all judges have to do."
She said there is both good and bad to the court being in the news so much recently.
"To the extent that it engages people in the work of the court and paying attention to the court and knowing what the courts do and what the Constitution has to say, that's a positive development," she said. "To the extent that it gives them misimpressions, that's a negative development."
Barrett's public appearance came after Justice Elena Kagan, at a conference in Oregon earlier this month, publicly declared her support for an ethics code for the Supreme Court. But she said there was no consensus among the justices on how to proceed, suggesting the high court is grappling with public concerns over its ethics practices.
Justice Samuel Alito, during an interview with the Wall Street Journal opinion pages in July, said Congress lacks the power to impose a code of ethics on the Supreme Court. That made him the first member of the court to take a public stand against proposals in Congress to toughen ethics rules for justices in response to increased scrutiny of their activities beyond the bench.
Justice Brett Kavanaugh, the only other justice to make public comments since the court's term ended in June, largely avoided discussing ethics during an appearance at a judicial conference in Minnesota last month.
The Associated Press obtained thousands of pages of documents that show how justices spanning the court's ideological divide have lent the prestige of their positions to partisan activity — by headlining speaking events with prominent politicians — or to advance their own personal interests, such as book sales, through college visits. And reporting from ProPublica earlier this year revealed Justice Clarence Thomas participated in lavish vacations and a real estate deal with a top Republican donor.
Barrett described the court as "warm," with justices sharing lunches together.
"There's warm personal relations," she said. "There's an effort to accommodate one another."
The conference where Barrett spoke was for the 7th U.S. Circuit Court of Appeals, which covers Wisconsin, Illinois and Indiana, where Barrett previously lived. The meeting was held in Lake Geneva, Wis., a resort area 80 miles northwest of Chicago.