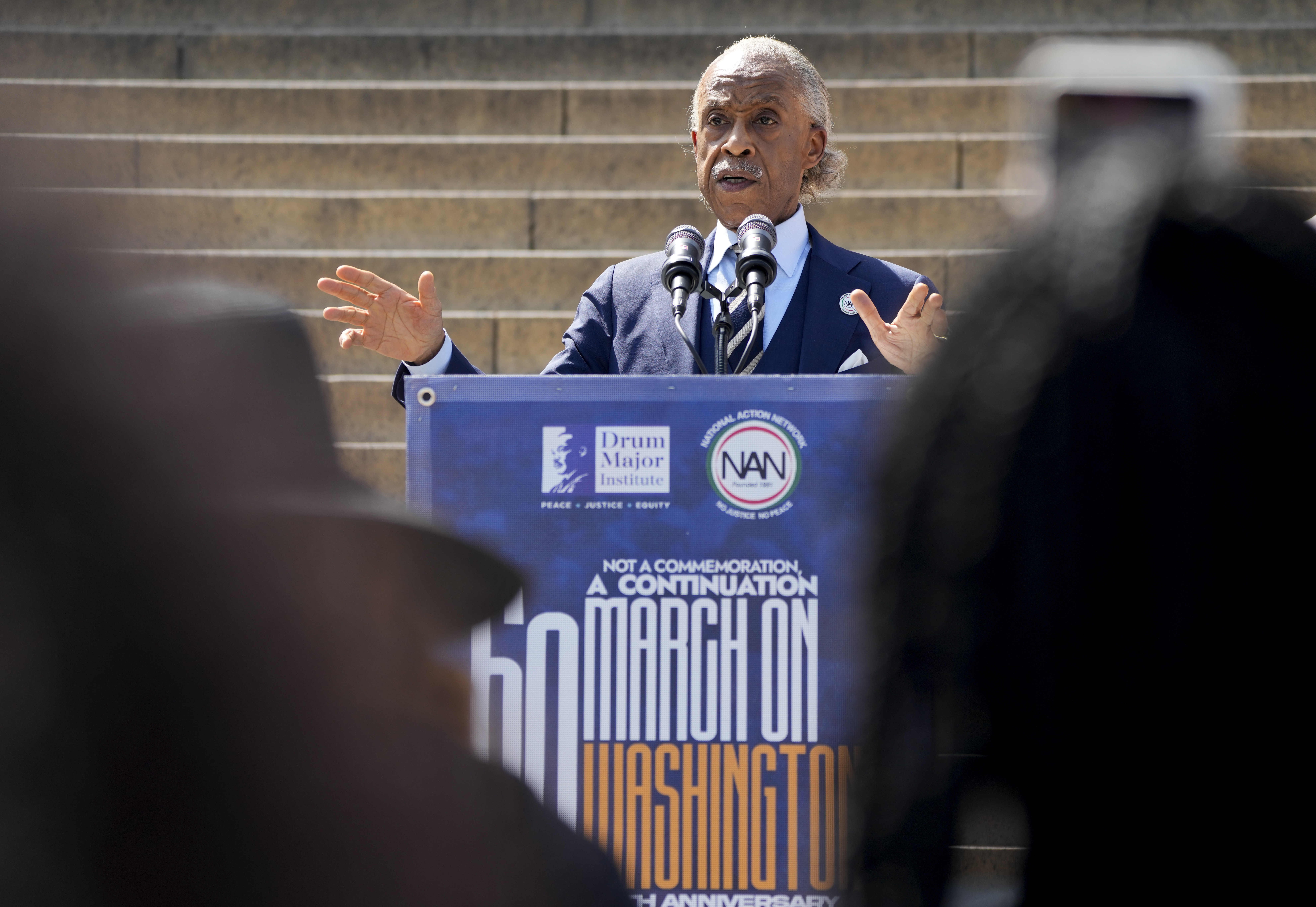 Civil rights activist Rev. Al Sharpton on Saturday afternoon warned against turning back the clock on civil rights amid recent efforts to overturn democratically held elections during an event celebrating the 60th anniversary of Martin Luther King Jr.'s "I Have a Dream" speech.
"Sixty years ago, Martin Luther King talked about a dream. Sixty years later, we're dreamers," Sharpton told a crowd in front of the Lincoln Memorial. "The dreamers are in Washington, D.C. The schemers are being booked in Atlanta, Georgia, in the Fulton County Jail. The dreamers will win."
Sharpton was the capstone speech of the day that featured dozens of civil rights figures, who collectively leaned into rallying support for liberal social causes that they said were in danger, including reproductive rights, environmental action, LGBTQ equality and unions.
"If you look like me, you could have fewer voting rights on your 18th birthday than America promised you on the day you were born," said Yolanda Renee King, King's granddaughter. "If you're a young woman like me, you could have fewer personal rights. And no matter who you are, you can be less safe from random gun violence and irreversible climate change."
President Joe Biden and Vice President Kamala Harris will meet with civil rights organizers and members of King's family on Monday, which falls exactly 60 years after the original March on Washington. On Saturday, the president was flying back to Washington after vacationing in Lake Tahoe.
Several Democratic politicians also showed up to support the event and give speeches, including House Minority Leader Hakeem Jeffries, Rep. Jim Clyburn (D-S.C.) and several members of the Congressional Black Caucus.
"Sixty years later, America is at a crossroads — an existential struggle between enlightened people and extreme people," Jeffries said at the event. "We want to move the country forward. They want to turn back the clock."