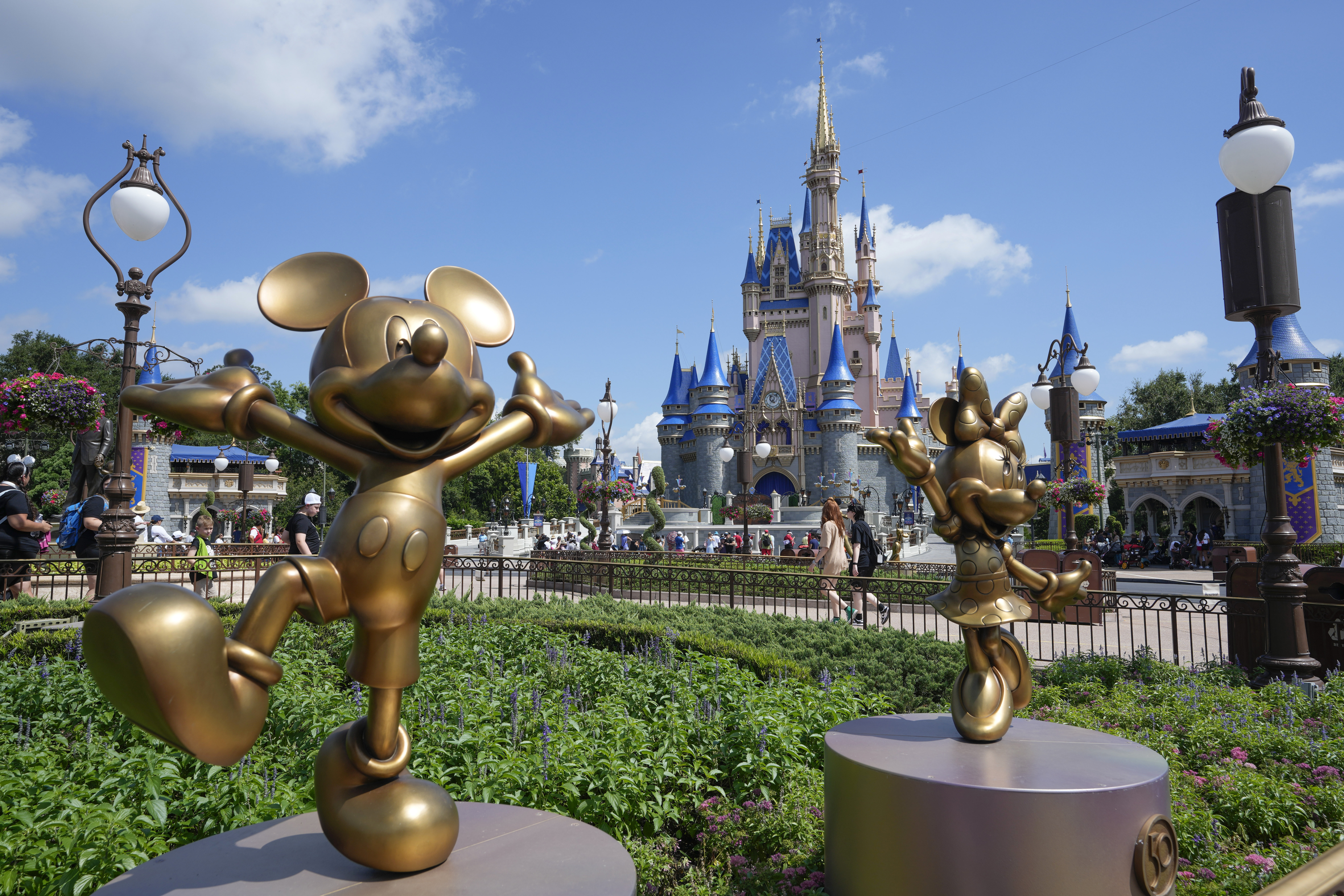 MIAMI — The state board that controls the land housing Walt Disney World expects to more than triple what it spends in legal fees next year following a high-profile battle between the entertainment giant and Gov. Ron DeSantis.
New figures released Wednesday find the Central Florida Tourism Oversight District anticipates it'll spend $4.5 million in legal fees in 2024, after already incurring $1.9 million in costs this year. The figures were presented as part of the district's larger budget proposal led by Glen Gilzean, the district administrator.
The costs come as a result of dueling lawsuits between Walt Disney World and the board, whose members were hand-picked by DeSantis. The governor put new leaders in charge after the Walt Disney Co. publicly opposed a bill he signed into law limiting when and how educators can teach LGBTQ topics in public schools.
Disney sued in federal court in April, alleging retaliation against its right to speech, and the board filed a dueling lawsuit in state court.
Before the feud, the district spent roughly $1.25 million on legal fees, Gilzean said, calling the spending increase "regrettable" and "Disney-induced expenses." Part of the increase in spending also comes as a result of board members seeking legal advice when they consider new governance policies, he said.
Gilzean also laid out $16 million in planned cuts as part of his presentation, largely achieved through cutting the millage rate, or tax rate, that'll affect how much people and businesses pay in property taxes in the district. Due to higher property values, the move won't necessarily reduce what area homeowners and businesses pay in property taxes but will keep the payments from going up next year as much as they otherwise would.
One of the more contentious budget items set to be excised was $2.5 million in Disney World perks for roughly 400 district employees, a tab the district picked up for decades. One firefighter who spoke during the public comment period in the meeting broke down in tears over the change, saying he otherwise couldn't afford to take his family to the parks.
Jon Shirey, president of the firefighters union, said in an interview that attorneys representing the union and board were meeting to see whether the arrangement could be preserved, but acknowledged that the deal might be overridden by state law saying private companies can't give gifts to government workers.
The board has proposed abolishing the arrangement in favor of a $1,000 stipend, after taxes, so that district employees could use the money to attend any restaurant or hotel, not just those affiliated with Disney, board chair Martin Garcia said during Wednesday's meeting.
But the stipend won't offer the same level of benefits employees previously enjoyed, particularly for those who want to take their families to the park.
"Is that the right number? We don't know," Garcia said. "If it needs to be higher we'll do it."
Walt Disney World representatives did not respond to a request for comment.
The Central Florida Tourism Oversight District plans to increase spending in other areas, including allocating $1 million toward a new 9/11 structure that will include a new internet network, and $2.7 million to replace a guardrail in the district. It hired new public affairs officers and added staff in the public records office after getting a surge in documents requests.
The total increase in spending, when also factoring the legal fees, will be nearly $12.4 million, though that's offset by the savings in other areas, Gilzean estimated. Total anticipated expenditures for 2024 are $192 million, the presentation showed.
The budget proposal won't be final until the end of September and could still change following input from outside groups and residents. Board member Brian Aungst encouraged district residents and employees to weigh in over email.
"What I would like to see is open dialogue," he said.